GRACEKIDS MINISTRY
At Grace River Church we want children to know the truth of the Gospel. We teach this truth in fun and creative ways, based on each child's developmental stage in life.
We also know that you as the parent have the most influence on your child's spiritual journey. We want to equip you with tools and strategies to help lead your child's spiritual growth. You are able to view our weekly lessons through an app so you are included in your child's learning. You will also have access to parenting tips and suggestions on ways to have age-appropriate spiritual conversations with your children.
WELCOME TO GRACEKIDS
Nursery
Those serving in the Nursery show God's love to your baby by providing a safe and loving environment. It is our hope that you will be able to enjoy our worship service, knowing your child is in great hands.
Early Childhood
Children at this age will learn that God created them, He loves them, and He wants to be their friend forever. Video lessons, games, crafts and music are all used to reinforce these truths.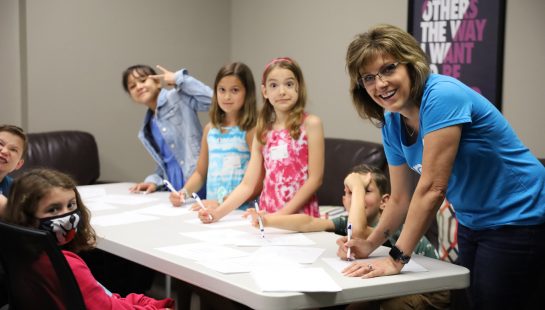 Elementary
As your child moves through our elementary classes, he/she will gain a greater understanding of God's love. Video lessons, games, and discussions are used to reinforce lessons that delve deeper in to God's truth.
PARENT'S GUIDE TO THE PARENT CUE APP
Parents have the most influence on a child's spiritual development. But many parents feel awkward when they try to have spiritual conversations with their children. Many parents don't even know where to begin.
This is where the Parent Cue App comes in. Parents are able to view weekly lessons, so they are able to talk to their children about what they learned in class. Parents will also have access to the weekly theme, ideas for conversation starters, and even parenting tips. The video below will explain how to get it all set up, and will walk you through using the app.